Schloss Lustheim
Meißener Porzellan-Sammlung
| | |
| --- | --- |
| Tuesday–Sunday (April until September) | 9 a.m. – 6 p.m. |
| Tuesday–Sunday (October until March) | 10 a.m. – 4 p.m. |
| Monday* | closed |
* except: 6 January, Easter Monday, 1 May, Whit Monday, 15 August, 3 October, 1 November
Closed on 6 January, Easter Monday, 1 May, Whit Monday, 15 August, 3 October, 1 November.
Taking pictures for private use (only with the usual hand-held cameras and without light and tripod etc.) does not require a permit.
Car park at Hochmuttinger Straße 54; no designated disabled parking spaces; distance to the entrance approx. 200 m (paved gravel path).
Disabled toilets: In the New Palace (upper floor) and in the Old Palace.
Entrance: Access to the palace via six steps; mobile stair climber for wheelchair users available. We kindly ask wheelchair users who would like to visit Lustheim Palace to register by telephone in advance in order to have sufficient time for the organization (provision of personnel and mobile stair climber).
Interior: Basement only accessible via stairs; mobile stair climber for wheelchair users available; doorways at least 85 cm wide; Level, non-slip flooring; Seats available

Category

Schloss Lustheim
Schloss Lustheim + Altes Schloss + Neues Schloss

Regular

EUR 5.00
10.00

Children and young people*

under 19 years
free
free

Concessions

EUR 4.00
EUR 4.00
* Students over 18 from general schools, vocational schools, special schools and schools for sick children in accordance with Article 6 (2) of the Bavarian Education Law (BayEUG) are also admitted free on production of a student identity card. Students from "second chance" schools (evening schools leading to intermediate or higher secondary school qualifications, colleges) in accordance with Article 6 (2) No. 1e of the Bavarian Education Law and language school students are not admitted free of charge.
Further informations on the Homepage of the Bavarian Palace Administration
Unfortunately, it is not possible to pay by card at the Schleißheim Palaces ticket office.
Programm
04
Sep
Sun | 13.00 - 14.00 | Schloss Lustheim
German guided tour.
Impressions
The Meissen porcelain collection of the Ernst Schneider Foundation ranges from the first porcelains of the Böttger period to dishes with imaginative chinoiseries and the legendary swan service, which conveys an idea of the splendour of Baroque banqueting tables. A highlight are the large-format animal figures by the master modeller Johann Joachim Kaendler
History of the Branch Museum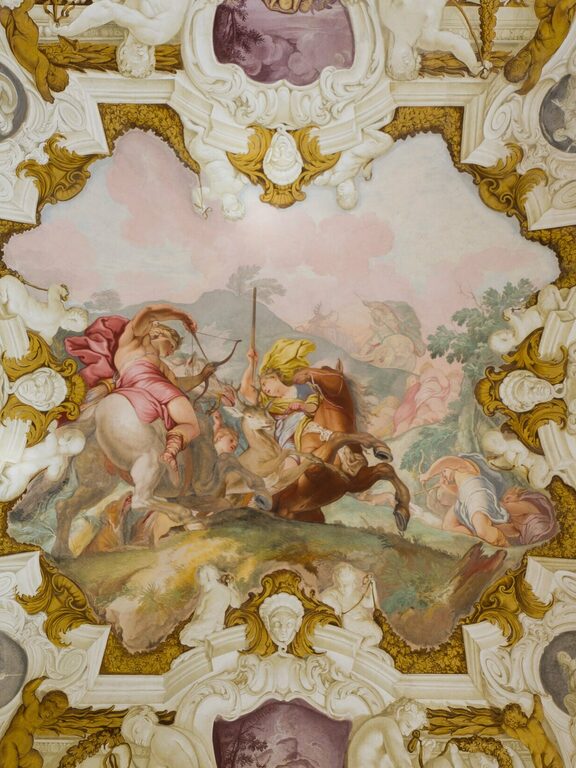 In 1968, Professor Dr Ernst Schneider (1900-1977) donated his important porcelain collection to the Free State of Bavaria. With this transfer came the obligation to exhibit it in Lustheim Palace as the "Meissen Porcelain Collection Ernst Schneider Foundation". The hunting lodge and garden palace was built on the occasion of Elector Max Emanuel's marriage to the Habsburg emperor's daughter Maria Antonia in 1685. Located on the eastern edge of Schleißheim Park, it was extensively renovated for use as a branch museum.

How to get there by car or train
Getting here by car:
The municipality of Oberschleißheim is located in the north of Munich and can be reached via the motorways A 92 (exit "Oberschleißheim") and A 99 (exit "Neuherberg") and also via the roads B 13 and B 471.

Getting here by train:
From Munich take the S-Bahn (suburban railway) number 1 (direction "Freising / Flughafen") to "Oberschleißheim". From the S-Bahn you can either walk (10-15 minutes to the Old and New Schleißheim Palace) or take the bus, line 295 (Monday-Friday only) or line 292, to the "Schloss" stop (Old and New Palace). Bus 295 also goes to the U2 as far as the "Am Hart" stop, bus 292 also goes to the U6 as far as the "Garching-Hochbrück" stop.
Deutsche Bahn DB
S-Bahn and U-Bahn
---
Address
Schloss Lustheim
Lustheim 1
85764 Oberschleißheim
+49 89 315872-42

---
You might also be interested in